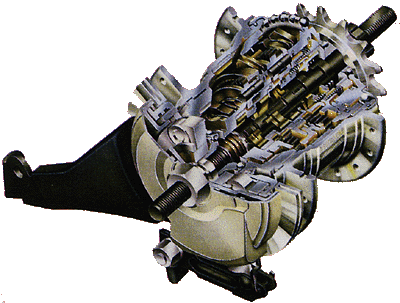 I am fascinated by internal-geared rear hubs. I have been, ever since I took apart my best friend's brother's 3-speed rear hub when I was 11, and then couldn't put it back together. (Of course, the undersides of cars are very fascinating, too, so I didn't much mind having to dive for cover every time he came around. This was a survival skill in rough, scrapping West
Albany
.)
One of the things that saps my will to live in the winter is the amount of cleaning and maintenance required of conventional multigear drive trains -- what, with the exposed cassette and shifting mechanism, the coupled derailer and chain tensioner (a.k.a., "derailleur"), &c. And so I'm determined to get myself an internal-gear rear hub and build a bike around it. There are a
few varieties
, but Shimano makes a couple of 8-speed hubs, with drum and disc brake options.
One concern, however, is the range of gear ratios available. Although 8-speed hubs generally have around around 300% step-up in gear inches, it's still not quite as much as on a conventional multigear bike with a triple crank, and say, 12-26 cassette. And so I'm thinking of pairing the internal hub with a double crankset.
However, this leaves the question of how to take up the slack in the chain when it is on the smaller ring, which is the pretext for
this thread
I started in
bikeforums.net

Which brings me to the sobering personal aside. One of the respondents to the thread is Sheldon Brown. If you've searched for bike tech information on the web, you know that Sheldon is
the
bike mechanic in the U.S. He's tried virtually everything, and has
documented it
.
Anyway, in his responses, Sheldon mentions that he has multiple sclerosis, and it has progressed to the point that he can no longer ride a two-wheeler. I think that is unspeakably sad. And yet he carries on.